Search
art-file has a full-text search function, plus easy-to-use advanced searchfilters, as well as clearly structured lists and sorting functions. You'll get your bearings quickly and easily, even in the most complex and wide-ranging data landscape—and you'll find answers to all your inquiries at one glance.
Selections
Save your selected works in a list and give it a title. You can create an unlimited number of lists containing an unlimited number of works and name them according to their purpose or however you like. For example: You want to select works by several artists for an exhibition and create a price list? Search for the specific works using the search function in art-file and collect them in a basket with just one click. Now all you have to do is give your selection a name, and with just one more click, you can produce a price list for exporting, either right away or later. Your selection can be edited or changed any time.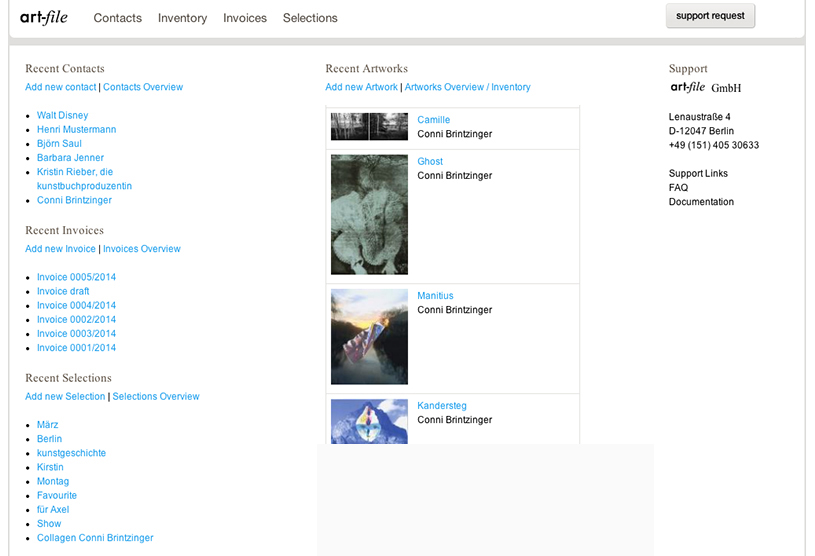 Exporting documents
With art-file, you can create and export your data within in a wide range of attractively designed documents with just one click: invoices, price lists, portfolios, catalogues of works, lending agreements, storage and inventory lists, mailing labels of all kinds, tax reports for your accountant, and condition reports. You can export your data in all the standard data formats including PDF and Excel—and of course, custom designed to fit your corporate identity.
Internationalization
art-file generates all documents in two languages. You decide which languages you want to use when entering your data. Your invoices, portfolios, and tables are all adapted to international standards, and units of measurement, address formats, and value added tax rates are converted automatically and you can also use as many different currency settings as needed.
User administration*
We can set up as many user accounts as you require and assign them to different user groups. This allows you to decide which rights each user is given—for example, whether a user has access to your accounting records or your address book. All authorized staff members can use art-file simultaneously and work with the same data—even from different gallery locations.
Browser-based network
You can log in to art-file from anywhere in the world via Internet. No special software is needed aside from a browser. art-file gives you immediate access to all your data from any portable device. All content is provided to you in a format designed for easy viewing on smart phones and tablets. Telefonnumbers and emails can be directly used by the standard functions of your mobile device.
Cross-platform design
art-file runs on both Mac OS X and on Windows XP/Vista/7 as well as on mixed networks. art-file is optimized for the browsers Chrome, Firefox, and Safari. Thanks to the use of Drupal®, art-file is a stable, high-performance software that is operating system independent, and it can be configured for an individual user or a network. We host your art-file on our server and create a cloud server for you. Or if you prefer, you can install your database on your own in-house server—just ask us about the technical requirements.
Private Views*
In next to no time at all, you can present selected works in professionally designed documents such as portfolios and publish them online in a password-protected private viewing area. Instead of having to download PDF files, your clients or press contacts can look at full-screen images of the works by clicking on a link.
Interaction*
An artist from your gallery, your collection, or an exhibition you're curating can also use art-file to export a list of works, including descriptions and images, to you. With just a click, you can then upload the list directly into your own art-file.
Backend for your website*
It's easy to publish a selection of artworks from art-file on your own website. Either we can dock art-file on your existing website, or we can program a new website for you that is linked to art-file. Ask us for a personalized offer!
Data freedom*
With art-file, you have complete control over your data. You can export or compile all of your data in Excel, or migrate your data to a different software at any time.
* Not included in the basic price.