art-file Collectors & Curators is a multilingual database designed to fit the specific needs and work processes of collectors and curators. art-file Collectors & Curators archives information about artworks and the actors in the art world, linking the data so that you can quickly and easily review entries, add new information, and edit records. The user-friendly design allows you to maintain an overview of current and completed tasks. In just a few quick and intuitive steps, you can produce professionally designed documents presenting selected works that are ready to be emailed as PDF files or printed for presentation. art-file Collectors & Curators offers an array of time-saving features that facilitate daily operations, including presentation, exhibition, publicity, storage, shipping, as well as art education and promotion.
art-file Collectors & Curators has the following key components: Contacts (an address database) with a separate category for management of Artists (in the collection or exhibition), Inventory (a catalogue of art works), and Selections (a tool for creating lists and producing print-ready documents).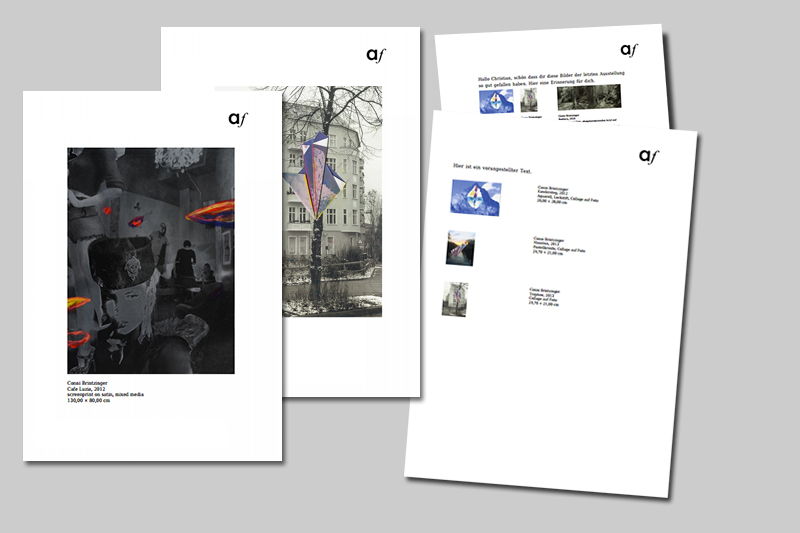 All printables are customized to your stationary.
Work example presentation
Work example artworks list
.
Contacts
The art-file Collectors & Curators address database is an easy-to-use tool for managing client relations. Contacts contains complete information on artists, service providers, and the press. In addition to general contact data, each entry in the address database includes a profile covering special interests and other notes. You stay up to date on which artists a critic is interested in or which framer offers the best terms.
Each entry can be assigned to any number of lists, which can then be used in mailing invitations and catalogue sending, as well as press releases. It is just as easy to create personalized newsletters or mailing labels—even with very large quantities of data. Upon request, we also provide an additional feature automatically linking art-file Collectors & Curators to your electronic newsletter.*
Artists
The artists feature allows you to keep detailed information on each artist, including contact details, biographical information, and pricing agreements. The software links the artist information to information from different segments of art-file Collectors & Curators, allowing you to see all of an artist's works at a glance here as well.
Inventory
The art-file Collectors & Curators inventory allows you to catalogue the artworks in your collection or all of the works that are relevant for your work as a curator. For each work in your inventory, you can keep detailed information such as the catalog number, provenance, and exhibition history of the work, together with an unlimited number of images. When used in combination with selections, with just a few clicks you can create catalogues, price lists, certificates, invoices, and many other types of documents for printing, emailing as PDF files, or for online view with the password-protected private view* feature. Thanks to the interconnectivity of the software, you can always see the current status of an artwork—where it is currently being held and for how long, or where it has been discussed in publications.
Selections
Print-ready documents
The selections feature in art-file Collectors & Curators makes it fast and easy for you to create all the necessary documents to present artworks. You can create, name, and save your selections of works in a variety of different layouts depending on your needs, and then print or email them to clients as PDF documents based on templates that are designed to reflect the visual identity of your collection.
art-file Collectors & Curators enables you to quickly and easily create portfolios and catalogues of artists' works for presentations and to produce inventory lists and shipping labels for internal use.
Publications*
art-file Collectors & Curators is especially useful for the layout and editing of your publications. Upon request, we create templates for you that come very close to the layout of the planned book. This allows you to export a selection of works including typefaces and formatting that can be recognized by InDesign and imported automatically into the final publication layout by a graphic designer.

Production and Shipping
art-file Collectors & Curators handles the logistics of production and shipping of artworks precisely and efficiently. If you need to send a collection to an art fair or collector, art-file Collectors & Curators makes it easy to produce the necessary transport documents such as labels, delivery sheets, and insurance and customs reports, as well as commission and loan agreements. The variety of possible document types available in art-file Collectors & Curators ensures quick, efficient, and reliable logistics.
Private View*
Provide your clients with an exclusive viewing by selecting works and sending the client a temporary web link to the private view area. With the private view feature, you can show clients the artworks in an attractive layout as full-screen images, eliminating the need to email large PDF files.
Backend for your Website*
With art-file Collectors & Curators, you can publish the works in your collection or your exhibitions on your website in just a few easy steps. Either we dock art-file Collectors & Curators on your existing website or we can create a new website for you linked to art-file Collectors & Curators. Please contact us for a personalized offer.
*Not included in the basic price.